Chocolate chip and cranberry.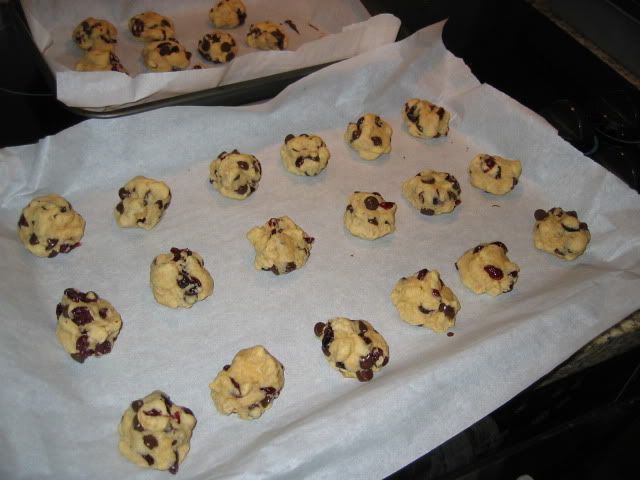 (Recipe modified from
this
)
Ingredients:
1/2 cup butter, softened
1/2 cup packed brown sugar
1 egg
1 tbsp vanilla extract
1 1/2 cups all-purpose flour
3/4 tsp baking soda
1/2 cup semi-sweet chocolate chips
1 cup dried cranberries
Directions
Preheat oven to 375 F. Line two baking sheets with parchment paper.


In a large bowl, cream butter and brown sugar. Beat in egg and vanilla extract. Combine flour and baking soda; stir into the wet ingredients. Mix in the chocolate chips and cranberries. (DO NOT OVERMIX!) Drop by heaping spoonfuls onto prepared cookie sheets.

Bake for 8 to 10 minutes. For best results, take them out while they are still doughy. Allow cookies to cool for 1 minute on the cookie sheets before transferring to wire racks to cool completely.
~*~*~*~*~*~*~*~*
Notes:
Initially it may look like there's too much flour for the amount of wet ingredients. Fear not, doubting Thomas, it will work out.
8 min makes a delicious soft/chewy cookie.
I've reduced the amount of sugar by half and the chocolate by 1/4 cup, but the result is still almost too sweet for me.
Loooooooove homemade cookies~~~
(I'm really indulging myself tonight. What came before this was linguine with cream cheese and mushroom sauce, with pan-seared scallops. And this is all after going to see my doctor earlier today on a suspected heart problem... :-P)